Frontgate is the leading retailer of luxury home products with unsurpassed quality and long-term value that consistently exceeds its customers' expectations. They pledge to offer extraordinary products that outperform and outlast the ordinary. A Frontgate product is well built of the finest materials, generously scaled, with thoughtful design, excellent craftsmanship, and finish detail. Frontgate products can be described as professional-grade, authentic, having innovative features yet are of timeless design. Each Frontgate product is tested to ensure a delightful experience. Frontgate is one of the Qurate Retail Group portfolio brands, which are collectively owned by Qurate Retail, Inc.
Create Your Escape Sweepstakes
Summer & Fall Sweepstakes Digital Campaign // 2021
In an effort to generate awareness and excitement around the outdoor assortment, Frontgate launched a sweepstake that gave entrants the opportunity to win one of three $10,000 prizes. Once customers submitted their entry by entering their email address, they were encouraged to choose the outdoor escape of their dreams in hopes of inspiring the way in which they would spend their potential winnings.
KPIs: Email Capture, User Data
House Beautiful Collaboration
Furniture Collections Digital Campaign // 2021-2022
Frontgate teamed up with House Beautiful to create several collections. In order to tell the story and harmonize the two brands, we designed an editorial experience that acts as a conversation between Frontgate and its partner. Each featured product is accompanied by detailed statements from House Beautiful Style Director, Robert Rufino, who explains the qualities of each piece and its importance within the collection.
Together, Frontgate and House Beautiful created four collections between 2021 and 2022.
KPIs: User Traffic, Product Sales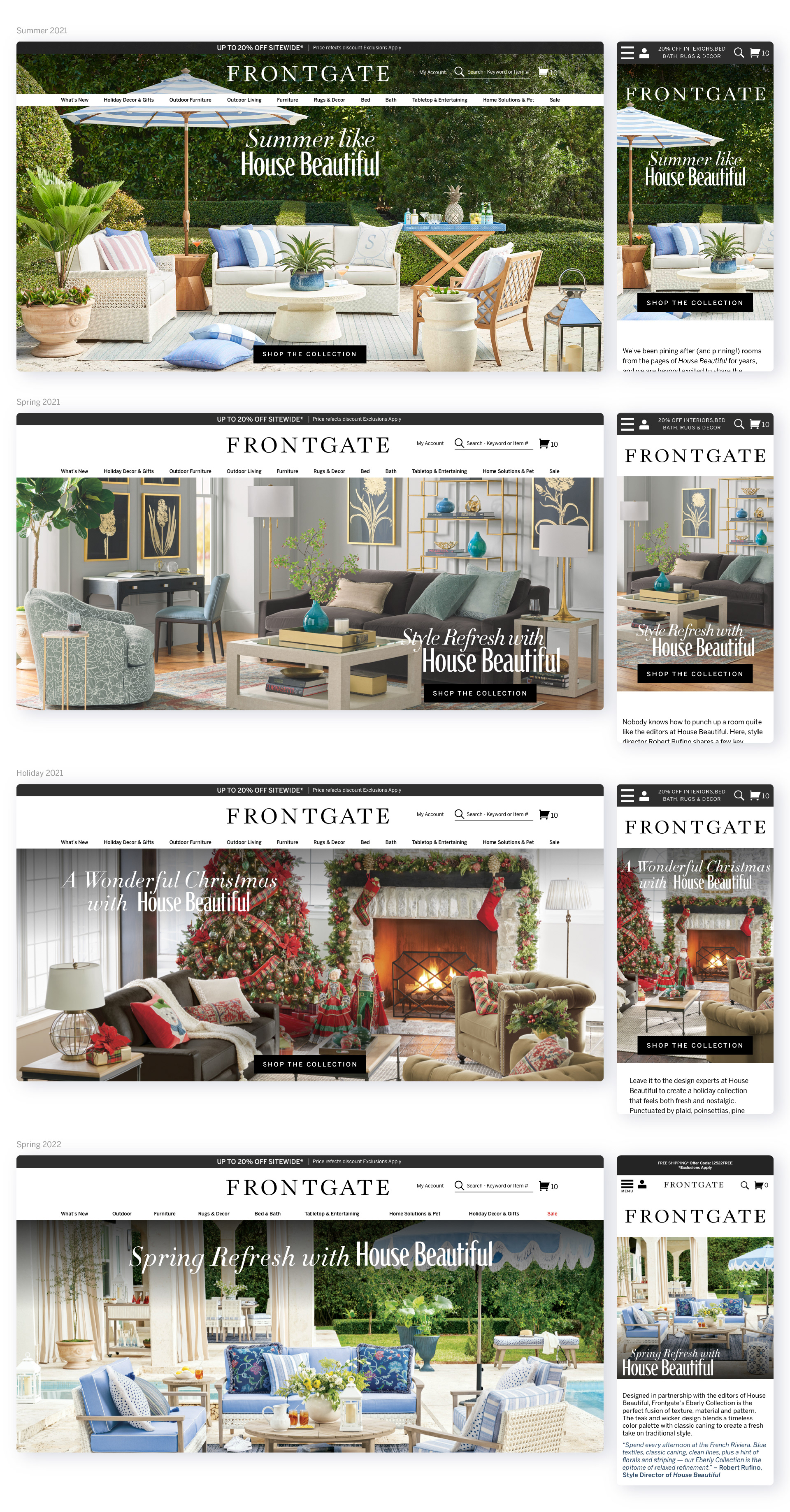 Landing Experience // 2021
This landing experience was created to support an external advertising campaign in partnership with Sunbrella® who was running a print ad in HGTV Magazine for their July edition. We used this opportunity to create a special experience that positioned Frontgate products with the addition of Sunbrella Fabrics as a superior option for outdoor furniture. The landing experience was designed to be a guide that met customers at their intention. They're introduced to an opportunity to preview or order fabric swatches, preview selected outdoor products, and even the option to work with our design team to create an outdoor space that their family can enjoy for years to come.
KPIs: Swatches, Product Sales, Design Services